This article Gram Scale Tournament, has content directly taken from our mother site. All credit of the content goes to the respective authors of the content, the original article may be read here: "Air Gear Wiki".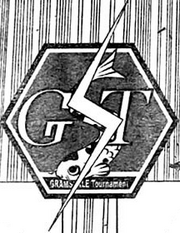 The premier tournament of the A-T world, the GramScale Tournament not only determines the best riders of the Parts War, but is also the only route to obtaining the Sky Regalia.
About
[
]
The GramScale Tournament is open to any A·T team of B-Class or higher; however, the necessary registration documents must be completed and submitted along with the team leader's R.E.A.D. data before the clock tower at Tropaion Tower tolls nine times.
Once applied, matches are randomly determined by the central database in the Tropaion Tower. Any class of battle is possible; usually, the higher-ranked team decides the type of battle and location. The tournament progresses using a knockout style of elimination, and the finals are a zero-gravity D-Class battle in the main elevator of the Tropaion Tower itself.
Sleeping Forest serves as an officiator to the tournament, as Tropaion Tower is their territory. However, should a particular team enter to win the Sky Regalia and possesses the strength to do so, they will enter the tournament personally to deal with the threat.
History
[
]
The last tournament was won by Sleipnire, with the Runner-up being Lion Heart].
Current Tournament
[
]
The current iteration of the GrandScale Tournament is in progress.
Prelude
[
]
The nine tolls of the Tropaion Tower leading up to the beginning of the tournament occurred at the following points in the story:
First toll: Kogarasumaru begins their ascent to B-Class.
Second toll: Ikki leaves the Noyamano household.
Fourth Toll: Ikki begins his counteroffensive against the White Wolf Clan.
Fifth Toll: Agito completes his Bloody Blade Fang and executes it for the first time.
Sixth Toll: Kazu wishes he could have beaten Ikki.
Seventh Toll: Nike and Sora commence the takeover of the U.S. Fleet aircraft carrier.
Eighth Toll: Ine Makigami meets John Omaha for the first time.
Ninth Toll: Ikki prepares to register for the tournament.
Matches
[
]
Thus far, the following matches have either taken place, or are underway:
Kogarasumaru vs. Inorganic Net
[
]
Not an official match, since Kogarasumaru was not a competitor at time of battle; they fought for competing status and received Inorganic Net's permanent seed status.
Alumite Drop vs. Giga Giga Eyes
[
]
Location: Iwate
Battle Type: ??
Victor: ??
Kogarasumaru vs. Highway Circus
[
]
Kogarasumaru vs. Sleipnir
[
]
Victor: Kogarasumaru
Genesis vs. Sleeping Forest
[
]
Kogarasumaru vs. Genesis
[
]
List of teams
[
]
A list of the teams participating in the current Tournament is given below: It is the source for most of the teams' data.
※1: Entered solely to prevent Genesis from winning the Sky Regalia.
※2: Entered to win the Sky Regalia.
※3: Entered by winning seed status from Inorganic Net.
※4: Currently merged into Jiggy.
※5: Previously team "Crazy Mask".
※6: Has permanent seed status, but does not actually participate.